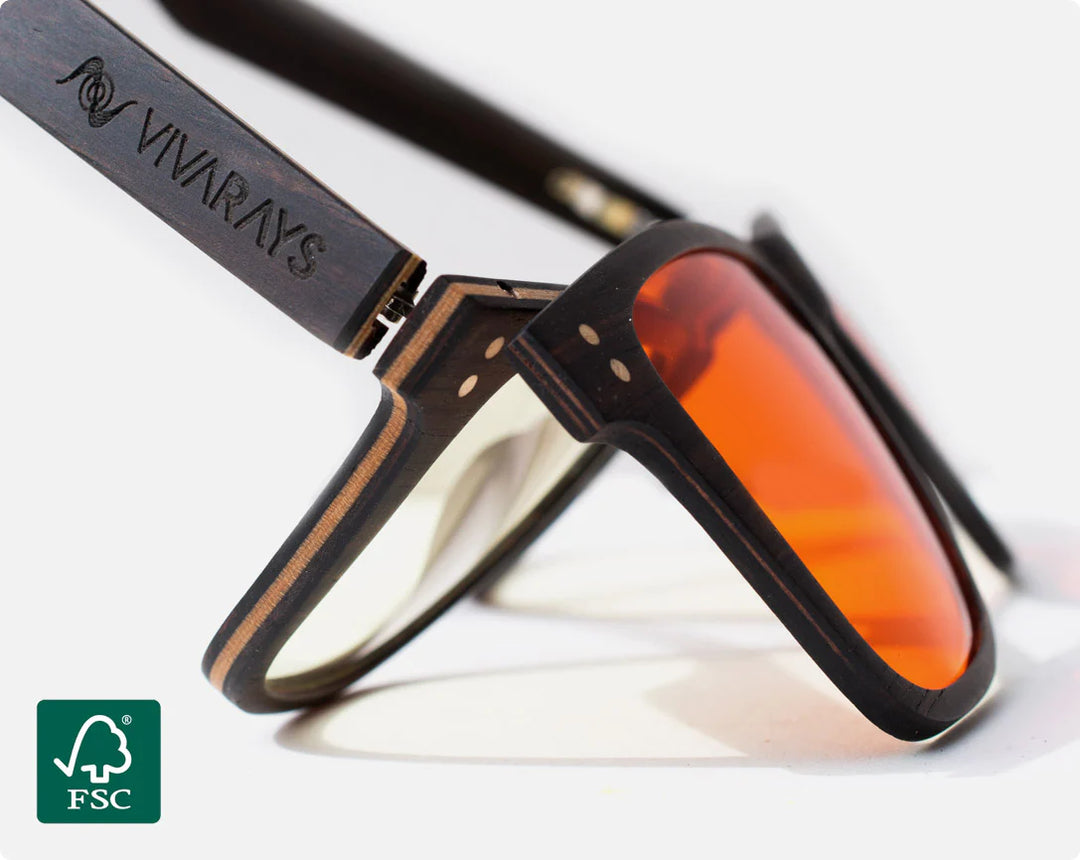 Glo Clip'N'Go 4 in 1 UV Transmitter Lenses
Lowers blood pressure
Regulates circadian rhythm
Improves Energy & Focus
THE WORLD'S FIRST UV TRANSMITTER PRESCRIPTION LENSES TO HARNESS THE POWER OF HEALTHY LIGHT
Allow 55-60% of beneficial UV light to enter your eyes
Vitamin D production
Helps you lose weight
Wear UV lenses as you wear your regular prescription lenses.
When exposed to artificial light, snap your Day, Eve,or Night clip-on based on the time of the day
The Glo square frame is carefully crafted by hand from sustainably sourced ebony wood, guaranteeing that your frame is a unique masterpiece.
The Lightweight design makes it a delight to wear all day long
Premium anti reflective and anti-fingerprint coating lenses, ensuring the clearest vision possible.
The Sunkist frame is also free of toxins, protecting both your skin and the environment.
Comes with a luxurious FSC-certified cork hard case and a recyclable cleaning cloth. 
Magnetic feature for easy snapping of evening or nighttime clip-ons 
Weight of the frame is 23 g
Weight of the frame with a clip on is 37 g
We stand behind the quality of our products.

All VivaRays frames are warranted against manufacturing defects for 3 months while defective, damaged or faulty glasses are replaced upon receiving within 10 days including Sleeping Masks, Earphones, and Earplugs.

All VivaRays lenses are warranted for 6 year against manufacturing defects. 

The manufacturer warranty on eyewear lenses covers coating defects such as peeling or cracking. Lenses are highly vulnerable to scratches and nicks, the warranty does not cover scratches on prescription lenses caused by everyday wear and tear.
To our respected customers and loyal community. We understand the importance of providing products that are both reliable and durable, and we stand behind the quality of our offerings.
We have a comprehensive warranty program that assures customer satisfaction and protects our customers' investments. 
Our frames are backed by a 3-month warranty against any manufacturing defects. Additionally, we replace any glasses that arrive defective, damaged, or faulty within 10 days of receipt.
Our VivaRays lenses come with a 6-month warranty to further enhance our customers' peace of mind. Our manufacturer warranty specifically covers coating defects, such as peeling or cracking, to ensure that our customers enjoy our products with complete assurance.
We believe that our holistic warranty program, combined with a brand dedication to provide high-quality products and outstanding customer service, is what you need in today's day and age. We stand firmly behind the quality of our products and we promise you transformational results.
Free Shipping to Canada & USA  on orders above $150
Your order will be shipped in the next 24- 48 working hours.
For prescription lenses orders, it takes between 15-20 business days
Delivery times:
Canada: 2- 5 business days (Standard shipping) & 1-2 business days (express shipping)
USA: 5- 9 business days (Standard shipping) & 1-2 business days ( express shipping). US customers do not pay customs
Rest of the world: 3-5 working days (We only ship express for international orders with UPS). We also offer standard shipping (6- 10 business days) for Australia and some countries in Europe.
Custom Duties:
For non-Canada & US countries you may pay custom duties.
If you are unsure whether or not you will be charged duties/VAT at the time of receiving your parcel, please get in touch with your local post office to get the exact details regarding this. 
 Risk Free policy:
We offer a simple 90 days Return/exchange policy on No prescription lenses. 
Our Wellness accessories collection such as sleeping mask, EMF earplugs and earphones are not returnable or refundable for hygiene reasons.